Top Mexican Recipes
The best selection of top mexican recipes for you to cook at home.
Chilaquiles Rojos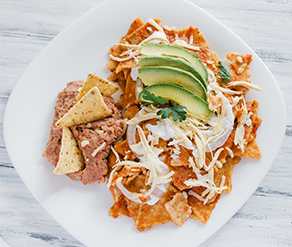 This is true Mexican comfort food, what your mom made you for breakfast when she had some stale tortillas that needed to get used up.
Chilaquiles are basically corn tortilla pieces that are fried, cooked in salsa, and sprinkled with cheese. They are often served for breakfast with eggs and refried beans.
 
Do you like enchiladas? Chilaquiles are basically the same ingredients, but with a lot less work. No rolling.
 
It will help with the frying if your tortillas are a little dry. If they are fresh, cut them first, put them in a warm oven for a few minutes first to dry them out a bit, then proceed.
 
Ingredients:
1 dozen corn tortillas, preferably stale, or left out overnight to dry out a bit, quartered or cut into 6 wedges

Vegetable oil

Salt

1 1/2 to 2 cups red sauce 

2 Ancho dried chillies

4 de arbol dried chillies

A few sprigs of epazote
 
Garnishes
Chihuahua cheese

Savoury fresh cream

Coriander, chopped

Chopped red onion

Avocado, sliced or roughly chopped
 
Red chili sauce
 
Take 2 dried ancho chillies, remove seeds, stems, and veins. Heat chiles lightly on a skillet on medium heat to draw out their flavour. Put chilies in a saucepan, pour boiling hot water over to cover. Let sit for 15 minutes. Add ancho chillies arbol chillies, 2 garlic cloves, 1/2 teaspoon of salt, 1 1/2 cups of chili soaking liquid to a blender. Hold down lid of blender tightly while blending, blend until completely puréed. Strain through a mesh sieve into a frying pan to make the chilaquiles.
 
In a large sauté pan, coat pan generously with corn oil, (1/8 inch), heat on medium high to high. When the oil is quite hot, add the tortillas, fry until golden brown. Remove tortillas to a paper towel lined plate to soak up excess oil. Sprinkle a little salt on the tortillas. Wipe pan clean of any browned bits of tortillas.

Add 2 Tbsp oil to pan, bring to high heat again. Add the salsa and let salsa cook for several minutes. If you have a few sprigs of epazote, add them to the salsa. Then add the fried tortilla quarters to the salsa. Gently turn over the pieces of tortilla until they are all well coated with salsa. Let cook for a few minutes more. Remove from heat. Serve chilaquiles with garnishes and fried eggs and refried beans.