Top Mexican Recipes
The best selection of top mexican recipes for you to cook at home.
Cactus salad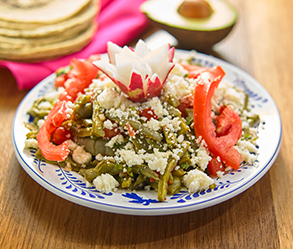 Ensalada de Nopales
Ingredients
• 3 cups of diced nopales (tender cactus)
• 1 large tomato diced
• ¼ cup of finely chopped red onion
• 2 limes
• 4 tbs, chopped fresh coriander
• 1 tbs of avocado/olive oil
• 1 thick slice of fresh cheese crumbled
• 1/3 of avocado
• ½ cup of finely diced raddish (optional)
• Chile serrano o jalapeño finely chopped, opcional para servir
• Salt and pepper, to taste
1. Rinse the nopales inside a drainer in running water. Once they are thoroughly rinsed, cook them in salty water for 5 minutes, until soft and tender. This must be done only with raw nopales, with nopales purchased in pouches or jars, cooking is not required since they are already cooked. Only the rising process is required to eliminate the clear natural slime they have. Whatever the process is, nopales must be left to drip in the drainer.
2. In a bowl place the drained nopales, tomatoes, onions. Coriander, lime juice, chillies and oil.
3. Mix it all and season with salt and pepper to taste.
4. When serving, put a slice of avocado and crumbled cheese on top.
There are no available products under this category.