MEXICAN SALSA RECIPES
Looking for amazing Mexican salsa recipes to make at home? Find exclusive Restaurant quality Mexican recipes to inspire you from MexGrocer
Chipotle Sauce
Written by Hannah Thorn (
cibuskitchen.com
)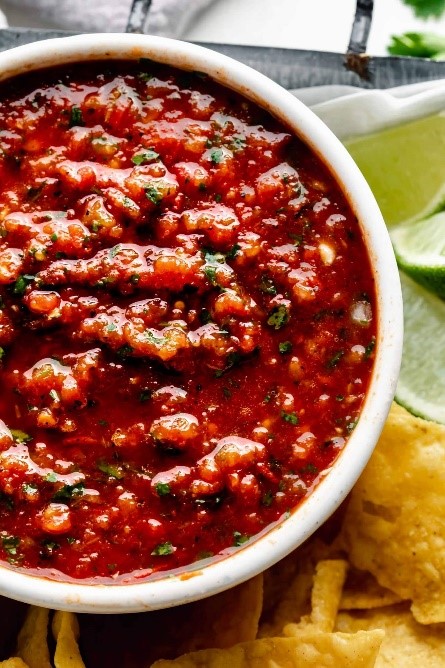 Chipotle is a type of Mexican Chilli that is known for its rich smoky flavour. The name itself derives from the Nahuatl word, Chilpoctli, which means "smoked chile pepper", and it's this process that gives it a unique flavour. Although it is commonly made using fresh jalapenos, a variety of chillies can be used such as mora, morita and pasilla. The process begins with ripe fresh chillies being smoke dried removing the moisture and while giving them a deep red, almost coffee like colour. The result is a deep rich flavour, alomost like liquid smoke, but with a kick of heat making it a great addition to stews, dressings and of course salsas. Chipotle chillies are available dried, in powder and in adobo (a preserved marinade).
For this recipe, we are going to be using dried chipotle chillies to make this rish and meaty sauce that goes great over pork or cooked into lentil and bean stews.
INGREDIENTS
3 or 4 Chipotle Morita Chillies (depending on how hot you want your salsa)
2 finely cut strips of bacon
13g (1/4 cup) finely chopped onion
600g of finely chopped tomatos
8.35g (1 cup) beef broth
50g (1/4 cup) of finely chopped carrots
50g (1/4 cup) of freshly chopped celery
5g (1/4 cup) of chopped fresh coriander
1/2 teaspoon salt
1/4 teaspoon pepper
DIRECTIONS
First, we have to rehydrate the chipotle chillies. Place them in a bowl and cover them with warm water and leave them soaking for at least an hour until they soften. Drain and finely chop your chillies.
In a saucepan cook your bacon for about 1 minute until it lets out some of its oil then add the onion and cook until it is nice and golden.
Next stir in your chillies and the remaining ingredients. Simmer for about 20 minutes, add a bit of water to keep your sauce moist while the flavours combine.
Store your salsa in the fridge for up to 2 days in a sealed container.
This recipe was written by Hannah Thorne in collaboration with Mexgrocer. Hannah is a Latin American recipe developer living in London. Check out her website CIBUS and follow @cibuskitchen on instagram for recipes and updates.