MEXICAN SALSA RECIPES
Looking for amazing Mexican salsa recipes to make at home? Find exclusive Restaurant quality Mexican recipes to inspire you from MexGrocer
Avocado Tomatillo Salsa
 Written by Hannah Thorn (
cibuskitchen.com
)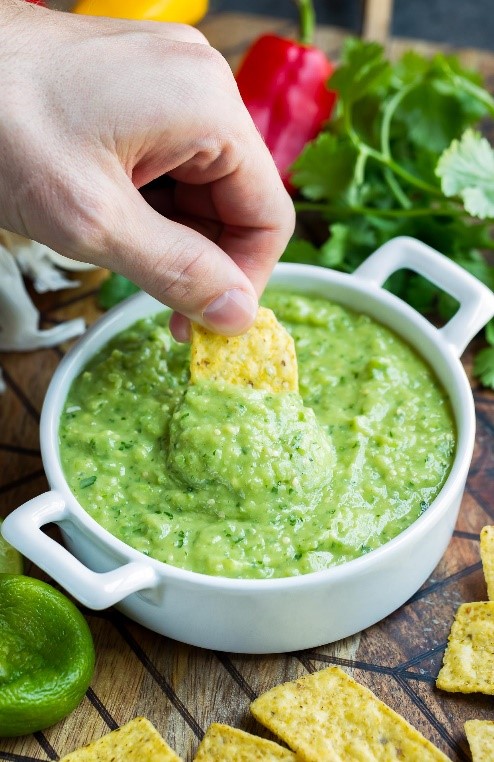 This tomatillo based sauce brings in the smooth and cooling avocado with the spicy jalapeno pepper combining to make a creamy salsa with a bit of kick, perfect for people who like their food on the milder side but don't want to compromise on flavour.  Tomatillos are one of the most used ingredients in Mexican cruise, although they may look like tomatoes they are completely different resembling physalis berries with their tart yet sweet flavour. 
This salsa comprises of avocado, tomatillo, coriander (cilantro) and jalapeno all blitz together to make a creamy guacamole-esque salsa perfect for burritos, tacos, chicken flautas and for dipping chips. This sauce requires no cooking and takes less than 5 minutes to prepare, keep in the fridge for up to 2 days.     
INGREDIENTS:
• 7 canned tomatillos
San Marcos
or
El Mexicano
• 1 fresh jalapeno pepper or serrano pepper
• 1/4 cup chopped white onion
• 1 clove garlic, peeled
• 1 large avocado, halved, peeled, pitted and diced
• 1/4 cup choped fresh coriander (cilantro)
• 1/4 tbsp
Mexican Oregano - Terana
• 2 tablespoons fresh lime juice
• Salt and pepper to taste  
DIRECTIONS:
In a blender pulse your tomatillos, jalapenos (or serrano) pepper, onion and garlic.
Add the avocado, coriander, lime juice, olive oil. Season with salt and pepper, then pulse for about 30 seconds. You want the salsa to be smooth with a few chunky bits.
Store your salsa in the fridge for up to 2 days in a sealed container.  
Watch how to make this Avocado Tomatillo salsa by clicking on the link below: