MEXICAN SALAD RECIPES
Looking for easy, simple and healthy Mexican recipes? Find exclusive Restaurant quality Mexican recipes to inspire you from MexGrocer
Cactus Salad / Ensalad de Nopal
Written by Hannah Thorne (cibuskitchen.com)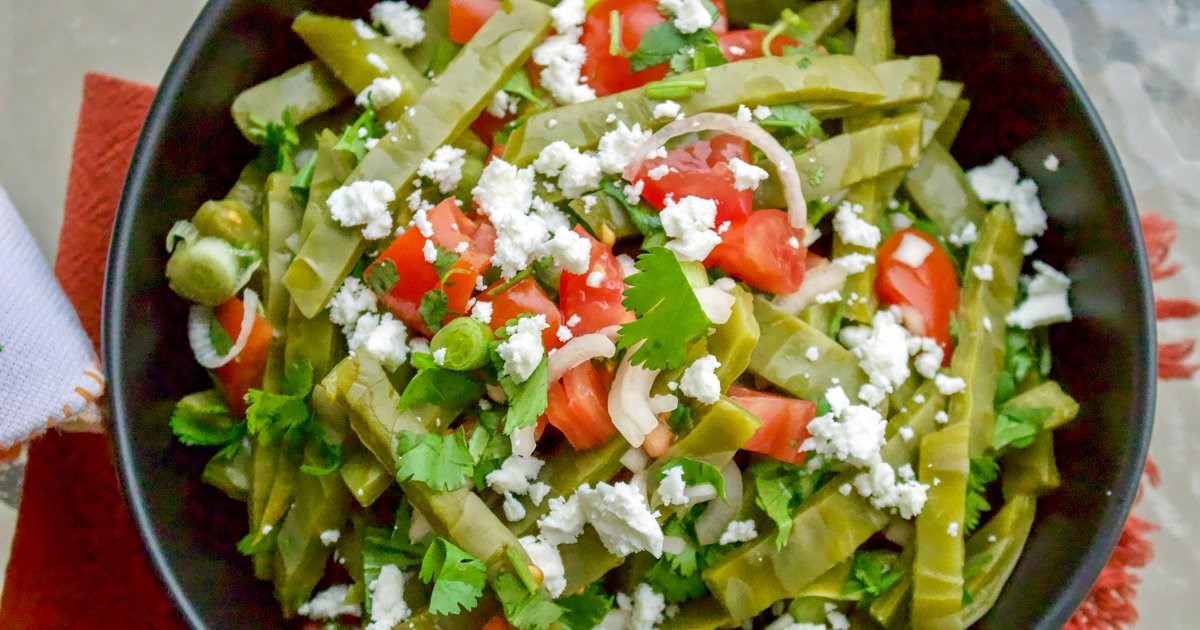 Nopal is the flat pad of the prickly pear cactus that grows in the estate of Mexico, it is a staple in Mexican cooking and a chief component of its cuisine dating back to prehispanic times. Due to their incredible health benefits and for being a very low calorie vegetable (100g of fresh nopal leaves only contain 16 calories), it has fastly become a favourite among health enthusiasts around the world. They contain vital traces of phytochemicals, antioxidants, fibre, and are high in vitamin C and A, potassium and minerals. It is also thought to aid in the reduction of cholesterol and blood sugar levels.
Like the fruit, the nopal has a slight mucilage that aids digestion, making it an excellent choice for anyone who may suffer from gut inflammation and digestive problems. 

Besides all of its glowing health benefits, it is honestly just delicious and incredibly versatile. Prep it with a bit of oil and throw it on the grill the next time you're having a barbecue, it pairs amazingly well with beef steak or pork chops, and of course, there's the bonus that after all that heavy food the noble nopal will act as a natural antacid protecting you from the perils of a heavy meal. You can even incorporate into your favourite morning juice blend to help boost your immune system throughtout the day. But with the days heating up as we make our way to summer, this recipe for ensalada de nopal is the perfect side or taco filling. It's vegan, gluten free and very low carb making it a dish everyone can enjoy. This clasic salad starts off the same as pico de gallo (comprised of onion, tomato and fresh coriander) and adds diced up nopal to complete the dish. 

When using pouched nopalitos from a jar, just drain them and mix them in with the tomatoes and the rest of the ingredients. No need to cook them as they are already cooked. 
INGREDIENTS
460g chopped Nopales Strips - Azteca
2 heirloom tomatoes or 4 cherry tomatoes chopped
26g (1/2 cup) finely diced red or white onion
2 tbsp lime juice
1 tbsp Mexican Oregano - Terana
1 tsp fine sea salt
1/4 tsp freshly ground black pepper
30g (1/2 cup) chopped fresh coriander (cilantro)
52g (1/4 cup) of extra virgin olive oil
DIRECTIONS
To begin you want to take your jar of nopales and remove all the liquid. Next, rinse cactus thoroughly with water, lightly pat dry your nopales using a kitchen towel as you want to remove some of the brine water from the nopales. Since they come in a salt brine, we recommend you wait until the end of the recipe to reason your salad with salt just to be sure you put the right amount. Remember, it's always easier to add than subtract in cooking. 
Next, we are going to cut the nopales into bite sizes, about 2cm long. Put them in a bowl and set aside.
Next dice the onion. Ideally, you want to make the pieces rather small, about 1/4 inch thick as you want to avoid large chunks of onion that can be quite overpowering. Once your onions are diced add it to the bowl with the nopales.
For your tomatoes, we recommend using a variety that goes well in a salad, something that will hold its firmness but also has a sweet yet tangy flavour. Some suggestions we have for the salad are beefsteaks (these are your big red globe variety), bush tomatoes (similar to the beefsteak variety only smaller, they have a thick skin and are very juicy), and of course cherry or other vine tomatoes. Generally speaking the smaller the fruit the sweeter it is, as this salad contains acidity through the lemon juice the sweetness of the tomatoes helps balance out the flavours. 
Finally, add your chopped fresh coriander, dried oregano, black pepper and lime juice. Stir the salad and taste before incorporating the salt. 
An there you have it a fresh and vitamin-rich nopal salad! You can serve it as a side dish, or even use it as a filling for tacos. 
This recipe was written by Hannah Thorne in collaboration with Mexgrocer. Hannah is a Latin American recipe developer living in London. Check out her website CIBUS and follow @cibuskitchen on Instagram for recipes and updates. 
Watch Mexgrocer's Cactus Salad Recipe Video here: